HOME IMPROVEMENT - 45014    Reset
FEATURED BUSINESSES
Cowboy's Heating & Air

Cowboy's Heating & Air
P:
937-604-1541
Visit Website
At Cowboys Heating & Air, our goal is to install quality heating & cooling systems for all of our valued Dayton, Cincinnati and Northern Kentucky area customers. Whether you own a single family home or a larger building, we're here to design a heating & air solution that will best serve your needs.

We are a Tempstar and ClimateMaster dealer, but can service ALL manufactures and models such as Bryant, Trane, Carrier, York, Rheem, Ruud, Whirlpool, American Standard, Gibson, Heil and many more. Furnace repair Dayton Ohio. We invite you to schedule a consultation with one of our many licensed heating system installation experts, where we'll patiently answer any and all of your questions and discuss every stage of the process to help you determine your heating & air needs. So let's get started. Contact Cowboys Heating & Air today!
Bonham Electric, Inc.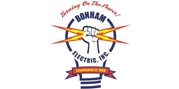 Bonham Electric, Inc.
P:
937-233-7662
Visit Website
Bonham Electric, Inc., one of the most established electrical contractors in Dayton, OH, offers residential service, commercial service, new construction, generator service, and much more. Contact us today for any electrical services you need and we will have an electrician on their way.

Bonham Electric, Inc. was established in October of 1959 by brothers Bob and Chuck Bonham. From their hard work and determination, the Bonham name quickly became synonymous with "electricity" in the Miami Valley. To this day, the professionals here at Bonham Electric, Inc. proudly carry the family name and continue to offer high quality installations, excellent service, and great value for our residential and commercial customers.

We here at Bonham Electric, Inc. can sum up our core values into four simple words: Trust, Value, Quality, and Excellence. Customer satisfaction is at the very top of our priorities and we place the highest value on trust and dependability. This high degree of professionalism is very apparent throughout our entire track record.

Many residents of the Dayton area have recognized our company as "the company with the light bulb on the side of their trucks" thanks to the logo recognition that equates Bonham Electric, Inc. to our light bulb logo. When the residents of the Dayton area see a Bonham Electric, Inc. company truck drive by, they are looking at a company that they like to consider "their" electrician when any electrical need arises. Our professionals here all live and work in your community, so we here at Bonham Electric, Inc. hope you will consider us for any and all of your electrical needs.