DENTAL CARE - 45014    Reset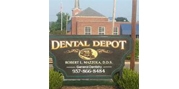 The Dental Depot General Dentist
18 North Fourth Street
Miamisburg
,
OH
45342
P:
937-866-8484
Visit Website
Many people in this area are relying on The Dental Depot as their trusted choice for family, cosmetic, and restorative dentistry. Dr. Robert L. Mazzola is recognized as one of the top dental practices in the area. He believes his role as your family dentist is to educate and motivate patients to take an active role in their dental health.

At The Dental Depot, we offer a wide variety of dental procedures.

Cosmetic Dentistry
Porcelain Crowns and Veneers
Crowns and Bridges
White Fillings
Restorative Dentistry
Custom Partials
Custom Dentures
Preventative Care
Gentle Child Care
Cleanings
Fluoride Treatments
Sealants
Emergency Care
Extractions
Root Canals
Broken Teeth
Denture Repair


Family Dental Care * Eastgate Dental Care
2520 St. Rt. 50/ Batavia; 4553 Elmont Drive/Cincinati
OH
45160
P:
513-732-6660 Batavia
Alt P:
513-528-9553 Cincinnati
Visit Website
Cincinnati Dental Care from Family Dental Care in Eastgate is the way to go! Our practice offers TWO locations to better serve our patients and community.

Dr. Jan Labeda and Dr. Bartosz "Dr. Bart" Labeda work to provide their patients great access to dental care, whether its cleaning and fillings, bridges or partials, extractions and implants, our practice works to provide you with the best care possible.
Our Eastgate location is open Monday to Thursdays, while our Batavia/Owensville location is open Wednesday to Friday, with Saturday appointments by request. Check out the "Contact Us" page for more information. We understand in today's working world, there are times we need to find more hours out of the typical "8am to 5pm" times. Our practice works to provide flexible hours to provide the care our patients need.

We perform a comprehensive dental exam at your initial visit. We examin diagnostic x-rays, oral cancer screening, gum disease evaluation, examination of tooth decay, examination of existing restorations, and then follow with a professional dental cleaning that includes removal of calculus (tartar), removal of plaque, and teeth polishing. When you're done, that smile will look amazing and be as healthy as it looks too.
Part of our commitment to serving our patients includes providing information that helps them to make more informed decisions about their oral health needs. This website is a resource we hope you'll find both useful and interesting.

We genuinely hope this site is helpful to you in learning more about our practice, dental conditions and treatments, dental recommendations, and more. Please browse through our website and be sure to give us a call if you have any questions or would like to schedule an appointment.

We also offer cosmetic dentristy, including fillings, crowns (caps), bridges, porcelain veneers, and teeth whiting to do things like change the size, shape, and alignment of certain teeth, fill in unattractive spaces between teeth, improve or correct bights, and brighten the color of teeth, among other thing.

We accept cash, personal checks, money orders, and major credit cards. Payment is expected at the time services are performed, and when more extensive work is needed, payment plans can be arranged through Care Credit.

Insurances that we currently are in-network with are: Delta Dental Premier, Dental Care Plus, & Superior Dental. We also accept any private care insurance plans that allow you to "go out of network"(allows for "out of network" benefits).