Wilks Insurance (Visit Website)
Servicing 45044 and nearby areas

Wilks Insurance
www.wilksinsurance.com
6011 Tylersville Road/Mason; 319 North Second Street/Hamilton
OH
45011
P:
513-755-8500/Mason; 513-868-9000/Hamilton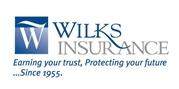 Your family, your business, and your possessions are all important to you. However, you may not know how to best protect them. We have the experience to navigate the unique risks you face and are here to serve as your insurance advisor. For more than sixty years, Wilks Insurance Agency has provided the highest quality insurance protection for an ever-growing number of clients in Hamilton, and Mason, as well as West Chester, Fairfield, Liberty Township, and throughout Greater Cincinnati. Above all, our goal is to meet and exceed the expectations of our clients locally in Ohio and the tri-state region. This foundation of knowledge and experience has earned Wilks Insurance the trust of the families and businesses that we serve and a position of leadership in the community. Firstly, we offer a complete line of personal insurance products and a comprehensive portfolio of business insurance coverage. We also offer professional and financial service products designed to meet your needs.

Our locally owned business has grown to be one of the largest independent insurance agencies in the area. For example, some of our specialties include home insurance, auto insurance, individual life insurance, brewery insurance, fitness center insurance, golf course insurance, manufacturer insurance, and medical office insurance. Similarly, we offer a variety of other insurance solutions to meet the needs of every client. When you choose Wilks Insurance, you are choosing an independent agent who is not limited to a single insurance company. Instead, we work with a carefully chosen group of the market's finest companies, chosen for their stability, service, superior products, and competitive prices.