Todd's Tree Service, Inc. (Visit Website)
Servicing 19320 and nearby areas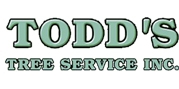 Don't let your trees overwhelm your property. Instead, let them do what they're meant to do, which provides shade in sunny areas and beauty for your overall landscape. When you let them grow too much, they overshadow your land and that's where we come in. When Mother Nature rears her ugly head and storms leave damage and debris on your property, count on Todd's Tree Service Inc to remove all the bad stuff so your land can look fresh and clean once again.

Prepare to sit by the fire during freezing cold temperatures with our help. The last thing you want to do is chop down your own trees for firewood, so instead let us do the job for you, so all you have to do is enjoy warm nights.

When a winter storm dumps a ton of white stuff by your doorstep, put the shovel down and call us. Walking on a sheet of ice of on piles of snow can be dangerous, so we take those dangers away.

Sometimes those trees are beyond repair and maintenance and just need to be removed. A tree may cause a tree extensive damage or age may take its toll. Whatever the reason, know that Todd's Tree Service Inc is there to get the job done right.

When trees begin to take over your property, they need trimming and pruning, as well as regular maintenance. Get rid of drooping branches, out of control leaves, and other parts that make your tree a hazard.

Even if the most visible parts of a tree are gone, the stump often remains. Get rid of that stump from the roots up with our expert professional services. A removed stump opens your land up to new possibilities and a fresh tree start.