The Goddard School (Visit Website)
Servicing 45069 and nearby areas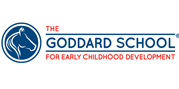 Mason, Ohio child care from The Goddard School relies on several fundamental ideas that are the core of our program. Our school is not a simple daycare, but a childcare facility focusing on early childhood education and development. We want your child to learn and develop while also enjoying themselves to the fullest.

Child care is a process that we embrace fully, with a wide range of experiences becoming available to the children in their time at The Goddard School. Our primary focus is your child's safety and wellbeing. We want children to be lovingly guided and helped at their own pace by our trained, professional staff. In short, our goal is to have fun and learn simultaneously in a safe environment.

There's always something happening at our school, from events, and special visitors to games, activities, and celebrations . We keep a full calendar and wouldn't have it any other way. Mason, Ohio child care begins and ends with The Goddard School.
Our staff has years of experience in the child care field and surrounding certifications like CPR, First Aid, Communicable Diseases, and Child Abuse. We value personal connections between the staff as well as the staff and children.

We do have an Infant Program as well, and the focus is to guide your baby's experiences toward a lifelong love of learning. We spend a lot of time talking and cuddling the baby to instill trust while also providing an early learning environment. We feel that we can provide both nurturing and stimulus for growth simultaneously, and each program is customized to your child's needs, progress, and age.

Kerra Spaeth is our On-site Owner, and we would be happy to schedule a tour today. A few words from Kerra are below:

Our approach is based on accepted research that clearly indicates the deepest, most genuine learning that occurs for children through play and fun activities, lovingly guided by highly trained teachers.

Your child is offered ample opportunities to develop his or her natural curiosity and creativity through exploration and discovery, guided by caring teachers who cultivate these moments for lasting understanding.

The Goddard School uses the most current, academically endorsed methods to ensure that children have fun while learning the skills they need for long-term success in school and in life. Our talented teachers also collaborate with parents to nurture children into respectful, confident and joyful learners.

I take great pride in being the On-site Owner of The Goddard School located in Mason. Not only has it been great being part of a family owned business in the Mason community, but I loved having the opportunity to raise my own children as well-rounded Goddard children. Now that they are older, I get to see the impact that Goddard had on them during their early childhood years. They both have flourished in the Mason School District. Come see what we have to offer for your child. Please see our event section for upcoming learning opportunities for your child at our school!