Shoreside Electric (Visit Website)
Servicing 23322 and nearby areas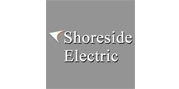 Shoreside Electric in Chesapeake, Virginia, provides various electrical contractor services for new construction and old construction for residential and commercial clients. Our company is fully licensed and certified and certifications and licenses are renewed every two years as mandated by the state of Virginia. We offer quality work, craftsmanship, and Green products that keep our clients coming back and saving money.
Professional Lighting

Complete your lighting project for your home or business with our licensed and certified electrical service. Our electrical experts help you with your lighting project from start to finish keeping you in mind throughout the entire process.

Green Lightning

Go Green and save money with our LED and energy efficient lighting. We offer many energy efficient lighting systems to choose from that provide plenty of light and use only a fraction of the energy it takes for general lighting systems.