Railside Assisted Living Center (Visit Website)
Servicing 49315 and nearby areas
Railside Assisted Living Center
www.railsidealc.com
7955 Byron Center Avenue SW
Byron Center
,
MI
49315
P:
616-878-4620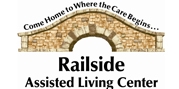 Railside Assisted Living Center, located in Byron Center, Michigan, offers a variety of services and amenities to meet your assisted living needs. In addition to housekeeping, laundry service, and daily meals, Railside offers support services personalized to the individual needs of our residents, including specialized care for those suffering from dementia, Alzheimer's, or other forms of memory impairment.
Railside Assisted Living Center is fully licensed as a Home for the Aged by the Michigan Department of Health and Human Services (MMDHHS). Our staff is carefully vetted and thoroughly trained to care for and monitor our residents' physical and mental well-being.
We invite you to visit Railside and see for yourself our comfortable living arrangements and high-quality care.