Moore's Driving Academy
Servicing 20659 and nearby areas

Moore's Driving Academy
P:
301-472-1702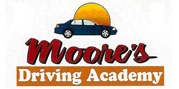 Moore's assists in putting confident, skilled, and educated drivers out on the roads. They are bonded and insured, with the best rates available. Discounts are offered for good grades and military and they offer convenient payment plans as well. They also provide pick-up and drop-off services from your home. If you are in need or can get your license right away, they will have you completed within 30 days.

We offer the Basic Driver's Education Course for all those who wish to obtain their Driver License. We are located here in Southern Maryland at the intersection of Baptist Church Rd and MD 5 (Three Notch Rd.)

This course is 30 hours of classroom work and 6 hours of behind the wheel work. This is the MVA certified course for new drivers. We will also do private lessons if the person so wishes.

We have been teaching Driver Ed for 18 years and have extensive background in Law Enforcement, and Transportation Systems. We take this experience and try to tailor the course to each of the students needs. This way while our standards are high we can work with each student to make sure they pass and become good drivers.