Garden Manor Care Center (Visit Website)
Servicing 45044 and nearby areas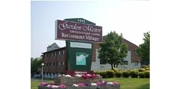 SHORT-TERM STAY

Transitional Care Services at Garden Manor offers a variety of services designed to prepare individuals to return home quickly, safely and confidently.

A Team Approach
Excellent Care and Rehabilitation
Private Rooms available with Amenities
Licensed Therapists & Assistants


LONG-TERM STAY

Garden Manor's roots began in providing exceptional long term care services to individuals within our community. We encourage you to visit us and experience the Garden Manor difference!

Specialized Clinical Capabilities
Return to Home Program
Compassionate Staff
Personalized Care

Established in 1967, Garden Manor was designed to meet the changing senior housing and health care needs within our community. Garden Manor is a complete campus offering independent and assisted lifestyles, short term rehabilitation and post surgical programs, personalized respite and vacation options, long term care and outpatient therapy. We are proud to offer people the opportunity to choose a brighter future knowing that virtually all their needs can be accommodated within one campus.