Electric Plus, Inc. (Visit Website)
Servicing 46122 and nearby areas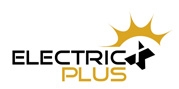 The Plus is More Than Just a Part of Our Name. Electric Plus, Inc. is a full-service electrical contractor serving the Indianapolis and Central Indiana area performing work in many different types of new and existing construction projects. Electric Plus, Inc. can help with design and layout of your next construction project. Electric Plus offers a variety of services for industrial, residential and commercial projects. Electric Plus can perform projects in new construction, remodel and service work. Preventative maintenance work including infrared imaging, equipment exercising, and energy audits are all important facility upkeep.

Professional
Our experienced staff has the knowledge and skills you expect from an electrical contractor. Our electricians are qualified to handle any of your electrical needs.

Logical
Electric Plus looks at your project from an analytical standpoint. Our experts will review your project with you and offer suggestions to improve the quality or offer cost saving ideas without compromising the integrity of the project.

Unique
Electric Plus empowers our field supervisors to make project related decisions to avoid delays or communication errors. We strive to constantly update our customers on their project status in an effort to provide complete customer satisfaction.

Safe
Electric Plus is a MICCS safety contractor. Our employees continuously receive safety training to ensure they have the most current safety knowledge.