Egbers Land Design, Inc. (Visit Website)
Servicing 41042 and nearby areas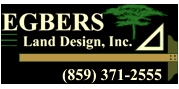 First meeting:
we sit down for about an hour and learn about your wants and needs. how you are going to use the space.

Measuring and design:
after our meeting we are going to come out and measure your property. we use equipment that measure topography and location. we go back and use the information to design your project

Design presentation:
presentations can be a simple walk through or a 3d show that leaves no doubt we have paid attention to every detail. taking 15 minutes or three hours we want you to ask questions and get comfortable with your project!!!