Compassionate HealthCare Nursing Services (Visit Website)
Servicing 21041 and nearby areas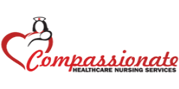 Compassionate Healthcare Nursing Services Inc. provides a variety of home care services for clients who need skilled nursing care, companion care, assistance with daily living activities, and total care for all ADLs. The agency is also licensed By the Department of Health and Mental Hygiene's Office of Health Care Quality as a Residential Service Agency (1) providing home care and a staffing agency (2) providing temporary staffing to healthcare facilities. The agency provides care for children with complex medical needs, adults, and senior clients. Services provided range from skilled care of the medically fragile patient on the ventilator to simple companionship.
Compassionate Healthcare selects only the best healthcare professionals to provide services for their clients. Our healthcare professionals' staff is knowledgeable, skilled, competent, and passionate about achieving excellence in patient care.
All recipients receiving care from Compassionate Healthcare staff are:
* Closely managed by an RN supervisor whose goal is to ensure that the recipient is receiving the standard of care.
* Has every measure taken to ensure that the client is satisfied with the services and exceeded expectations.
*Carefully match the health care professional with the recipient's particular needs and lifestyle.