Servicing 45014 and nearby areas

Cincy Vapors
http://cincy-vapors.com
5080 Pleasant Ave./Fairfield; 6586 Glenway Ave./Cincinnati; 1244 Main Street/Hamilton
Fairfield
,
OH
P:
513-737-3800
Alt P:
513-574-1232; 513-889-46100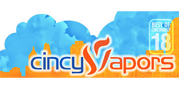 Cincy Vapors is Cincinnati's #1, Vape destination. Recognized Best of Cincinnati 18! We feature all of the latest mechs, box mods, RBA's, RDA's, RTA's as well as batteries & chargers. We have a premium curated juice collection that will boggle your mind and tantalize your taste buds. You won't find better gear, customer service, or vape juice anywhere in Cincinnati.

Cincy Vapors, the best Cincinnati Vape Store, is here to provide the tri-state area with a family owned vape store that carries 5 Star Products & provides exceptional service to each and every customer.

We sell Electronic Cigarettes (e-cigs) vapes or Vape Pens if you will. Some people call them Personal Vaporizers, whatever you call it, if it's related to vaping, we have it!

We carry an extensive line of gear, including Starter Kits, Box Mods, Mech Mods, E-Liquids (vape juice), Squonk Boxes, Vape Batteries, Chargers, and Accessories to fit all of your vaping needs. We are a member of the Ohio Vapor Trade Association, so we always adhere to best practices for a vape shop.

If we don't carry something you want, we will make a solid effort to get it, the customer always comes first.
Just ask!