Beltz Mechanical Systems, Inc.
Servicing 48623 and nearby areas

Beltz Mechanical Systems, Inc.
P:
989-695-5500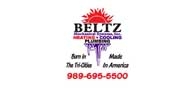 Contact us for your residential, commercial and industrial heating and cooling services! We take pride in our HVAC equipment installation and service. Mike Beltz and his team will take time to answer your questions and recommend a system perfect for your particular requirements. With energy costs continually rising, it's a good idea to have your system inspected and cleaned at least once a year to increase efficiency. That's why you can count on Beltz Mechanical Systems for energy-efficient heating and cooling systems that are also budget-friendly. We are an accredited member of the BBB with an A+ rating!

Commercial heating and air conditioning are ideal for companies, larger buildings and multi-level facilities that meet certain criteria such as a certain amount of square footage, are visited by the public or have employees. Commercial HVAC requires a more advanced and specific heating and cooling system. We take certain factors such as age of the building or new building, square footage, how much traffic will be in the building, location and more into account when we are designing a system for your business.