B&B Air Conditioning & Heating Service (Visit Website)
Servicing 21771 and nearby areas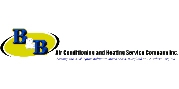 B & B services all makes and models of any air conditioning and/or heating systems. With over 58 year's experience in the trade we pride ourselves with providing excellent service to Maryland, Northern Virginia, and the District of Columbia areas. We believe in giving our customers the best service money can buy. Our service technicians attend our very own schooling system, which consists of three levels from beginners to advanced technology. Each technician must complete this schooling program in order to advance in our company. With the HVACR, trade rapidly evolving and new regulations being added to improve our environment our management team stays abreast of all changes so that we are able to provide our customers with the latest and greatest options available.

AIR CONDITIONING SERVICES
ALL MAKES AND MODELS

Services
Maintenance
Repair
Replacement
New
Additions

HEATING SERVICES
ALL MAKES AND MODELS- GAS-FIRED, OIL-FIRED, ELECTRIC, ETC.

Services
Maintenance
Repair
Replacement
New
Additions

Whether you are in need of service, repair, or replacement you have come to the right place. Why settle for mediocre, when you can have the best. Although we strive for perfection occasionally, we may make a mistake or misdiagnose a problem that is why we always have our management team reconfirm any major repair. B & B stands behind our work and after over five decades of service you do not have to worry about not being able to find us when you need service.