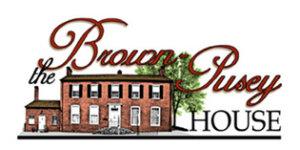 About The Business
The Brown-Pusey House serves the community in many ways, as envisioned by its grantors. This Georgian mansion houses the Pusey Room Museum, a genealogical library, and meeting rooms for private and public functions. There is also a beautifully maintained garden for the public to enjoy.  

The Cunningham Garden at the rear of the house is open to the public, except during private rentals. It is a popular wedding venue bringing many out-of-town guests to Hardin County. The lovely flowers, the terrace with its magnolia canopy, and the wisteria-covered pergola make this a little piece of paradise in the middle of Elizabethtown!

The Cunningham Garden is also home to "Tavern in the Garden" all summer, June - September, every Thursday evening. Enjoy free music and food and beverage are available for purchase.