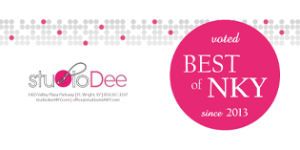 About The Business
Since its beginning in 1996, Studio Dee has sustained a remarkable reputation as an institution committed to dancers of all ages and abilities. Studio Dee firmly believes that through the arts, children thrive. Its programs focus on developing well-trained dancers in a warm, loving environment, promoting confidence & camaraderie within its students, and ultimately giving its students the tools necessary in becoming a well-rounded, poised individual.
In 1996 Studio Dee opened its doors in a small, one studio facility. The studio quickly grew to expand to 2 studios in 1998 and created a Competitive Dance Company, which has won both regional and national awards. The year 2006 brought a move to a more visible location at Pleasure Isle. Studio Dee and its Dance Company thrived in this location, so much so that the studio has recently moved to a brand new state-of-the-art facility in Ft. Wright, KY. The new site features three dance studios with professional flooring for its dancers, among other features.
Studio Dee takes tremendous pride in alumni's achievements, enjoying thriving careers throughout the cultural and entertainment industry. Graduates choosing careers un-related to the arts enter the world remarkably enhanced with the self-confidence, passion, dedication, and, most importantly, the integrity deep-rooted in a Studio Dee education.
Check them out on YouTube: https://youtu.be/Gr6lIM5GTeQ