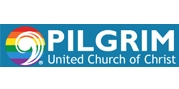 About The Business
We are a church family of Christ-followers . . .
United in Spirit and inspired by God's grace, we WELCOME all, LOVE all, and seek JUSTICE for all.

We are Easter people in what often feels like a Good Friday world. We know that death is not the end. We hope. We believe. We act. We care. We love.

We welcome everyone
to the Communion Table
to the marriage altar
to ordained ministry

For more than 150 years, Pilgrim has been a beacon of faith, hope, and love.

Join us in our journey as a vital vintage congregation committed to loving God, loving neighbors, and loving the neighborhood.