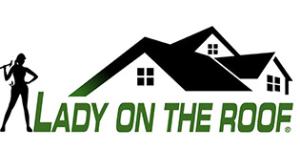 About The Business
Lady On The Roof® 
has been a leading asphalt and flat roof membrane repair and replacement roofing contractor just shy of 10 years in Northern Kentucky and Greater Cincinnati Area. Originated in 2013 in concentrated efforts to help property owners work with insurance adjusters to achieve full value in replacement from storm damage, Lady On The Roof® has earned a remarkable reputation for success in exterior full replacement through insurance claims. They offer premier products in installation and repair services for all types of roofs, including metal roofing, both straight seam and stamped metal shingles, asphalt 50-year dimensional shingle, EPDM rubber, Silicone and Acrylic Coating Systems, PVC and TPO membrane, and alliances with experienced professionals to help repair and install slate, copper, and cedar roofing materials. Lady On The Roof® is a full operational exterior renovator for commercial and residential exteriors to include gutters, siding, windows, and doors.
Locally owned and operated by Terri Audi Kruse, 
Lady On The Roof® 
strives to provide permanent roofing solutions in offering premium gauge metal roof applications that are durable, beautiful, and more affordable than the competitors. Their expert employees work closely in consulting with home and business owners, so they know exactly what's happening in the process in each exterior application every step of the way. LOTR focuses on the customer's goals to adhere to the budget and the schedule of each project. They offer repair or replacement of all kinds of exterior components and offer service contracts for maintenance upkeep to prolong the life of your roof, including residential and commercial roofing systems. Lady On The Roof® takes pride in helping their customers achieve full value in replacement due to losses from storm damage with insurance claims. 
They assist owners to help you with the entire process of insurance inspections, communication with adjusters, and vendor coordination to win your insurance claim replacement values to help you get what you deserve in the roofing, siding, gutter, and other exterior damage in this process, from start to finish!
We are proud to have a local company with a local team contributing to our local economy. Terri gives back to the community and encourages women to enter the construction field. She recognizes the importance of mentoring local women and helping them overcome gender diversity in the industry to open doors for their future success. Integrity and honesty are extremely important to LOTR, it's what makes 
Lady On The Roof® 
a leader!