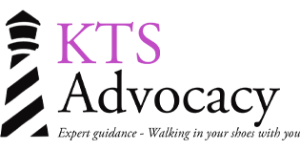 About The Business
Due to the vast differences in billing, coding, and reimbursement requirements for privately managed insurance plans, Medicaid, and Medicare, the U.S. healthcare system is one of the most complex in the world. Confusing medical bills and insurance coverage pose challenges to even the most informed patients. As a matter of fact, the health care system is so complex that more than half of consumers are unable to navigate it on their own, triggering avoidable customer service calls and more costly care.

Because of this many Americans are choosing to hire a Health Advocate. A Health Advocate is an individual who provides direct and personalized services to a patient and/or their family as they navigate the healthcare system. They can play a critical role in explaining health information to patients, helping them make informed decisions about their health.
KTS Advocacy is owned and operated by Karen Silber, MSW, LSW, BCPA. Karen has extensive experience in medical social work, health & wellness, and care management. She understands insurance, including coverage, prior authorizations and billing, and case management.

Offering expert guidance, Karen will walk in your shoes with you and give you peace of mind. As an independent advocate, she works directly for you and your interest.  She will educate, coach, and support you and your family and guide you through all those difficult decisions. As a Case Manager, Advocate, Liaison, and Medical Navigator, Karen will assist in arranging home services, and health care appointments, review medical records, arrange community resources, and provide help for end-of-life care.  She knows how to communicate and coordinate with health care teams and translate all the confusing medical jargon. She will also communicate directly with insurance regarding both billing and denials.
Based in the Greater Cincinnati area, KTS Advocacy serves clients across the US. Through experience, compassion, and communication, KTS brings peace of mind and CALM to the turbulence of managing health care.
Karen is a proud member of The Alliance of Professional Health Advocates and is certified by the Patient Advocate Certification Board.

You are not alone.
C.A.L.M.
Case Manager
Advocate
Liaison
Medical Navigator