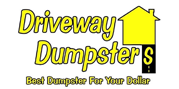 About The Business
Driveway Dumpsters is a locally owned and operated dumpster rental company with a sister company in Louisville, Kentucky.

Driveway Dumpsters has always made a point of standing out when compared to other dumpster rental companies in the Cincinnati area. Driveway Dumpsters is proud of providing excellence and efficiency to the dumpster rental process. We believe this is a major reason why customers have chosen them over other companies.

We offer residential and commercial rental services, whether you are a large company or just doing a home remodeling project Driveway Dumpsters has the perfect dumpster size for you at an unbeatable price.