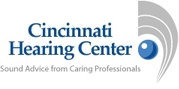 About The Business
The professionals at Cincinnati Hearing Center are committed to guiding you through the entire process of addressing your hearing health, from answering your questions about hearing loss and providing individualized consultation to finding the hearing solutions that are right for you, your lifestyle, and your budget. Get ready to enjoy what you've been missing. It's the little things in life that mean the most.

The first step is to come into our office for a complimentary hearing consultation. One of our highly trained audiologists will evaluate your hearing health, discuss her findings with you in easy-to-understand terms, address any concerns that you may have, and explain what steps should be taken next.

Hearing Consultation
Cincinnati Hearing Center looks forward to serving as your personal resource for all of your hearing concerns. Our staff would be more than happy to give you an overview of how hearing works, as well as the symptoms and causes of hearing loss and its effects. We can also explain what could happen if a hearing loss goes untreated and provide recommendations on how to hear what you've been missing so that you are free to enjoy life to the fullest.

Hearing Evaluation
When you come in (or bring in a loved one) for a hearing evaluation, our audiologists will spend time listening to your concerns and performing some painless tests to determine whether you have a hearing loss and if so, how severe it is. This process only takes about an hour.