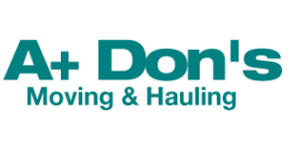 About The Business
Moving can be a stressful experience. From packing up all of your possessions to wondering how you're going to get it to where it needs to go, it can take a toll on you both mentally and physically. If only there was a company that specialized in moving of all shapes and sizes. Well today is your lucky day, because A+ Don's Moving & Hauling is just such a company.

With the top rating of A+ from the Better Business Bureau, you know you are getting a company you can trust to help you get your possessions to your new home in one piece and at an affordable rate. Our professional movers can take care of you no matter where you want to go or how much you have to move.

A+ Don's Moving & Hauling is number one in customer satisfaction in Cincinnati, OH! To put our customer satisfaction to the test and to make sure you can have complete faith in our abilities; our company is insured and bonded to put your mind at ease about a traditionally stressful time in your life.

Ready to relocate? Our team can help. We can help you move out of town or just down the street. Give us a call for a free estimate! We will also disassemble and reassemble your furniture if you need an extra hand!

Have a business that is in need of a relocation but you are having trouble finding someone to move your equipment? Not a problem - we can take care of that too! We can move anything from pianos to tanning beds to even ovens and culinary equipment.

Whether you need a team to dispose of waste from your business or property, our professionals are here to lend a hand. At A+ Don's Moving & Hauling, we've worked with property owners, landscapers, demolition crews, and homeowners to remove junk, debris, and waste. Give us a call if you need a professional team for junk removal.

No matter what kind of job you have, our friendly staff can assist you so you can get on with your life post-move easily and smoothly. If you are a senior citizen or have a military background, ask about our discounts pertaining to you! Call today for a free estimate and to get the ball rolling on your big move.