Stanley Steemer (Visit Website)
Servicing 20720 and nearby areas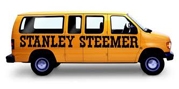 At Stanley Steemer, we've been cleaning carpet since 1947, the year our founder, Jack A. Bates, invested $2,300 into a home-based carpet cleaning company. Today, still family-owned and led by the third generation, the Dublin, Ohio-based company is synonymous with everything clean for your home and business.
Our professional deep cleaning services extend beyond carpet cleaning to furniture cleaning, tile and grout, hardwood, air ducts, and 24-hour emergency water restoration. With national coverage that includes over 300 locations in 48 states, our familiar yellow vans deliver state-of-the-art cleaning equipment, highly-trained technicians, and 24/7 response time to your doorstep.
We manufacture the equipment. We train the people. And we deliver exceptional service—guaranteed. It's no wonder Stanley Steemer is the world's best carpet cleaning company.

Why Choose Stanley Steemer?
Based on decades of experience, we know that cleaning helps to protect your investment. As the industry leader, we're committed to delivering the best carpet cleaning and floor cleaning service you can find. In fact, we boast a premier lineup of services that out-perform the competition, brought to you from highly trained specialists. Our professional deep cleaning provides the care and maintenance necessary to extend the life of your floors and furnishings. Not only do we save you time, but you can relax, knowing that you live and work in a cleaner, healthier environment.