Marzullo Funeral Chapel (Visit Website)
Servicing 21214 and nearby areas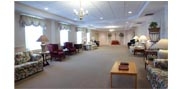 Death is a part of our lives. It is something that everyone will experience, but it is nonetheless an uncomfortable and often scary topic. Not to mention, it is very painful for those who are suffering from the loss of a loved one. Planning a funeral is a difficult job; it requires a lot of patience, thought and heartbreak all at once. To ease the pain from the families whose loved one has passed, it's key to find a respectable funeral home.

The Marzullo Funeral Chapel is a premier funeral home who has been serving the Baltimore Metropolitan Area for over a decade. Our caring and knowledgeable staff will help to lift the burden of planning a funeral service from your shoulders. We are here to provide peace of mind, and we will take extra care of your beloved.

The Marzullo Funeral Chapel is designed to provide a peaceful place for families and friends to remember their loved one. We respect your wishes and will work to fulfill the kind of plan and service you want to have. Our funeral director will assist you in planning the service of your choice and will take care of any last minute details, with the hopes that on the day of the funeral, you can solely focus on saying goodbye and cherishing the moment with family and friends.

Thank you for visiting our website. We hope that you will find the Marzullo Funeral Chapel to be the funeral home you have been looking for. Please feel free to browse through our website for additional information on the kind of funeral services we provide. If you have any questions about our services or would like to start the process of planning a funeral, please contact us. We are available 24 hours a day, 365 days a year. We look forward to helping make the grieving process a little less stressful for you.