Closets By Design (Visit Website)
Servicing 40502 and nearby areas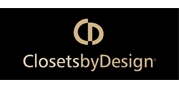 Welcome to Closets By Design in Louisville KY, where we specialize in custom closets and home office. Closets By Design Louisville can design an attractive storage space for any area of your home that needs organizing, from the pantry to the garage and everywhere in between.
Take your garage in Louisville and Lexington a step further and transform it into your workshop, garden center or arts and crafts room; all with plenty of storage space.

Closets by Design in Louisville and Lexington understands the necessity of your home office. That's why we've created a line of innovative and effective office systems in a variety of styles and finishes to match your unique needs.

This is probably the busiest room in your home in Louisville and Lexington, so it needs to be well organized. We understand how important it is to keep the rhythm of your home in harmony. Choose from a combination of long and short shelving, a variety of storage locations for cleaning supplies and items to complement your laundry room necessities.

Quick access to items in your kitchen is priceless. Our attractive pantries are developed to streamline cooking and cleaning with easy to reach shelves for easy to find items.
Maximize the use of your space with a foldaway designbed™ system. Customizable, multi-functional and ideal for small spaces, designbed™ offers creative space saving solutions for any home.

Designfloor® is offered in two different types of tile, each providing you with a large selection of colors, styles and patterns to make your garage the envy of your neighborhood.
designwall® is a complete wall storage and organization system for garages, utility and laundry rooms. Every home in Louisville and Lexington has a special room dedicated to hobbies, school activities, and other miscellaneous functions. Closets by Design can help you maximize your space with plenty of options for the kids.